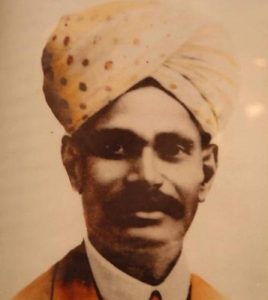 Raghupathi Venkaiah Naidu, known widely as the father of Telugu cinema, was an Indian artiste and film maker. Naidu was a pioneer in the production of silent Indian films and talkies. Starting in 1909, he was involved in many aspects of Indian cinema's history, like travelling to different regions in Asia to promote film work. He was the first to build and own cinema halls in Madras. The Raghupati Venkaiah Award is an annual award incorporated into Nandi Awards to recognize people for their contributions to the Telugu film industry.
Born – October 15, 1887 In Machilipatnam, Madras Presidency, British India (now in Andhra Pradesh, India)
Died – 15 March 1941 (aged 53)
Occupation – Film Director, Film Producer
Early life:
Venkaiah Naidu was the second son of an Indian Army official Subedar Appayya Naidu in Machilipatnam, Andhra Pradesh, India. His brother Raghupati Venkataratnam Naidu was a famous educationalist and social reformer. His forefathers worked as Commanders in the Army of East Indian Company and Madras Army in Telaga Regiments. At the age of 18, he moved to Madras and started drawing pictures and carving sculptures at Mount Road and selling them. He then learned photography and started a photo studio.
Different Roles played in Real Life:
As a Photographer:
In 1909, he ordered a Chrono Mega phone, equipment that relates sounds with pictures, from John Dickinson and Company. To pay for the Chrono Mega phone he bought for Rs 30,000, he rented out his photo studio. He shot 12 short films and exhibited them in Victoria Public Hall. He also travelled to Bangalore, Vijayawada, Sri Lanka, Rangoon and Pegu to exhibit his films.
As a Theatre owner
In 1910, he established Esplanade Ten House to exhibit his films. In 1912, he constructed Gaiety Talkies on Mount Road, the first Indian-owned cinema theatre in Chennai. He later constructed Crown Theatre on Mint Street and Globe Theatre in Parasuwakka, Chennai. He also exhibited American and British films. Some of the first movies shown in his theatres were Million Dollar Mystery, Mysteries of Meera, Clutching Hand, Broken Coin, Raja's casket, Peral fish, and 'Great Bard'.
As a Producer:
In 1919, he started a production company called Star of East Films and a film studio called Glass Studio. He sent his son, Raghupati Surya Prakash Naidu, to study cinematography in London. Father and son made their first movie "Meenakshi Kalyanam" around actual locations of the Madurai Meenakshi temple. Later, they produced films like Gajendra Moksham, Mathsyavatharam, Nandanaar, and Bhishma Pratigna, the first Telugu mookie(Movie with no playback voices).
Later career:
In 1929, he was forced to sell his properties to pay off his debts. The Andhra Pradesh state government established the Raghupati Venkaiah Naidu Award, later changed to Raghupathi Venkaiah Award for lifetime contributors to the Telugu movie industry.
Raghupathi Venkaiah Naidu Award:
The Andhra Pradesh State Government incorporated the prestigious Raghupathi Venkaih Naidu Award in 1981 in the honor of Raghupathi Venkaih Naidu. The winner of each year will be felicitated and presented a Golden Nandi, a Gold medal, citation and cash prize of Rs. 50,000.