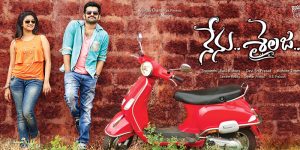 Release date : January 01 2016
Director : Kishore Tirumala
Producer : Ravi Kishore
Music Director : Devi Sri Prasad
Starring : Ram, Keerthi Suresh, Sathyaraj
Energetic hero Ram, has been going through a lean phase from quite some time now. Loosing no hope, he is back with a romantic entertainer Nenu Sailaja. Let's now see whether he makes a strong comeback on this new year's day.
Story:-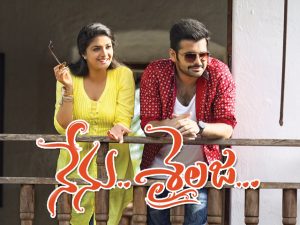 Hari(Ram) is like any other young guys who wants to fall in love and enjoy his life. To his bad luck, everyone rejects him most of the time. Upset with this, he decides not to fall in love again. But destiny has other plans and introduces him to the lovely looking Sailaja(Keerthi Suresh).
Hari spends some good times with Sailaja and right when he proposes his love, she rejects him point blank. An upset Ravi continues with his life and as time passes by, he gets a huge clue which could help him getting back his love.
What is that clue ? and How will Hari use it to win his love back forms the rest of the story.
Positive Aspects:-
Nenu Sailaja is a tailor made role for Ram. He is at ease in his character and performs supremely well throughout the film. The way he has carried varied emotions and has brought out his sensitive side is very good.
One of the major attractions of the film is Keerthi Suresh. The Malayali actress looks beautiful and has a stunning screen presence. Her chemistry with Ram works well and she gives a very confident and balanced performance throughout the film.
First half of the film is very good with some subtle yet entertaining humour. The dialogues, romance and the feel good factor in the film will entertain you big time. While the first half was quite youthful, the second half has good family emotions.
Negative Aspects:-
Whenever you narrate a love story, you exactly know that it will be a happy ending most of the times. The same is the case in this film too as the story is quite predictable and has many moments that you can guess right away.
After an interesting first half, tempo in the second half dips slightly and certain family emotions take center stage. The heroine's character which has strong will power gets a bit weak during this time and the focus shifts on family bonding.
Technical Aspects:-
Devi Sri Prasad's music is one of the added advantages to the film. None of the songs disturb the flow of the film and have been shot extremely well. Camera work is top notch and so was the art direction. Dialogues need a special mention as they have been written with a lot of simplicity and yet connect big time.
Coming to the director Kishore Tirumala, he has done a wonderful job with the film. Even though he chooses a simple and routine story, the way he has narrated it in a simple yet entertaining way is superb. There are no extra characters, no forced comedy and no illogical scenes in his direction. The way he brings out subtle yet varied emotions from his star cast is superb.