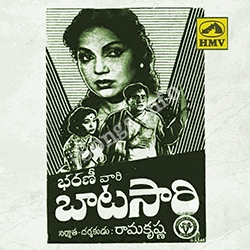 Batasari is a 1961 Telugu Drama film directed and produced by P. S. Ramakrishna Rao and P. Bhanumathi under Bharani Pictures. The film is starring A. Nageswara Rao and P. Bhanumathi in lead roles. It was simultaneously made in Tamil language entitled Kaanal Neer.
It is based on the novel Bada Didi written by Saratchandra Chatterjee. The lyrics, dialogues and screenplay are written by Samudrala Raghavacharya.
Cast:
A. Nageswara Rao – Surendranath
P. Bhanumathi – Madhavi
Devika – Manorama, friend of Madhavi
Sowcar Janaki – Wife of Surendranath
J. V. Ramana Murthy – Brother of Madhavi
Ramanna Pantulu – Zamindar
Mudigonda Lingamurthy – Diwan of Zamindari
Suryakantham – Mother of Surendranath
Chaya Devi – Maid of Madhavi (Poorna)
Doraiswamy – Old Man
Crew:
Directed by – P. S. Ramakrishna Rao
Produced by – P. S. Ramakrishna Rao, P. Bhanumathi
Written by – Saratchandra Chatterjee (story)
lyrics, dialogues and screenplay – Samudrala Raghavacharya
Singers – Samudrala, Bhanumathi, Jikki
Music by – Master Venu
Release dates – 21 July 1961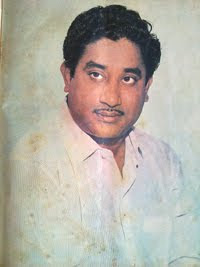 About The Director:
P. S. Ramakrishna Rao (b: 12 October 1918 – d: 7 September 1986) was a veteran Telugu film director and producer. He married Banumathi, a multi-talented film artist from South India
Stoty:
Surendranath (ANR) is the son of Zamindar (Ramanna Pantulu) who wanted to go abroad for higher studies. His parents do not agree, hence he decides to leave the house. He reaches Madras in search of a job and gets a place in the house of a traditional family as a teacher. The daughter of that house is Madhavi (Bhanumathi). She takes care of every need of the family. Surendranath's behaviour surprises her and she starts to like him. Surendranath tried to talk to her personally. As a result of some misunderstanding, she openly expresses her dislike. Unable to bear the insult, he leaves the house and meets with an accident. Her elder brother (Ramana Murthy) gets married. Surendranath goes back to his Zamindari. His father dies making him the Zamindar. He marries Janaki. Diwan (Lingamurthy) mismanages the finances. As a result, Madhavi loses some property. She wanted to meet Surendranath, but Diwan refuses permission to meet him. She comes to know that he built a village Madhavipuram on her name and felt happy. While verifying the records, Surendranath finds out the mistake happened. He wanted to meet Madhavi to request her pardon, in spite of his illness and finally dies in her hands.
Songs:
01 – Kanulaku Thochi
02 – Oh Baatasaari Nanu Maruvakoyi
03 – Lokamerugani Baalaa
04 – Upakaara Chinthaye