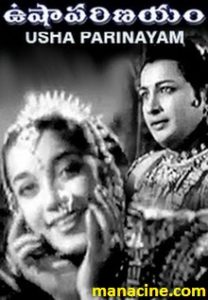 Usha Parinayam is one of the famous Indian dramas and films produced in different languages. It is also a popular Yakshagana. The play was written in 1901 by Vedam Venkataraya Sastry.
About the film :
Usha Parinayam a 1961 Classic Telugu Film by Kadaru Nagabhushanam under Rajarajeswari films.It was starring Tadepalli Lakshmi Kanta Rao as Anirudha, S. V. Ranga Rao as Banasura and Jamuna as Lady Usha. Rajanala Kaleswara Rao, Kannamba, Mukkamala, Relangi Venkataramaiah and Peketi Sivaram played the other main roles.
Cast :
Tadepalli Lakshmi Kanta Rao – Anirudha
S. V. Ranga Rao – Banasura
Kannamba – wife of Banasura
Jamuna – Lady Usha
P. Suribabu – Narada
Suryakala – Chitralekha
Rajanala Kaleswara Rao – Lord Shiva
Kalyanam Raghuramaiah – Lord Krishna
Relangi Venkata Ramaiah – Kolahalam
Mukkamala Krishna Murthy – Rajaguru
Mikkilineni Radhakrishna Murthy – Indra
Directed – Kadaru Nagabhushanam
Produced – Kadaru Nagabhushanam
Written – Sadasivabrahmam,Samudrala
Music – Saluri Hanumantha Rao
About the story :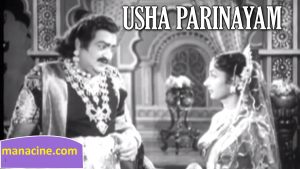 Banasura, the king of demons undertakes severe penance to solicit the blessings of Lord Shiva. Lord Shiva appears to Banasura and asks him to reveal his desire. Banasura asks for Shiva, Parvati and their entire family to guard the entrance to his city Sonapuri. Shiva goes to Sonapuri with his entire family including the Pramadhaganas to guard the city. This provides the arrogant Banasura with over confidence and he wages war against the devas. The devas are no match for the mighty Banasura who is under the protection of Shiva and are defeated in the ensuing battle. He further challenges Shiva, the very power under whose allegiance he defeated the devas. Angered with Banasura's arrogance, Shiva curses him that when the flag of your chariot falls without a reason, Sri Krishna will fight you and humble your pride.
Usha, the beautiful daughter of Banasura, prays to Lord Shiva and Parvati who are posted at the entrance to her father's fort and learns the art of dance from Parvati. One day, Usha falls asleep and in her dreams she experiences an intimate and romantic love play with a handsome young man. She is unable to discern if it was a dream or reality. She is scared and confused by all this. She recollects her experience with the young man of her dreams and unable to bear the ensuing erotic pain, she faints.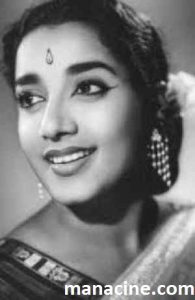 Usha's companions call upon her dearest friend Chitralekha for help. Chitralekha understands the situation through a conversation with Usha and persuades Usha to draw a picture of the young man from her dreams. Chitralekha sees the picture and immediately identifies him as Aniruddha, the grandson of Lord krishna.
Chitralekha brings a sleeping Aniruddha to Usha's chambers. Usha is overjoyed to see him. When Aniruddha wakes up and finds himself in a strange place with beautiful Usha. Usha expresses her love and tells him that he had been brought to her chambers by Chitralekha. Anirudhha is initially infuriated, but eventually he understands her love for him and agrees to get married to her.
The story of Usha Parinayam ends with marriage between Aniruddha and Usha.
About the songs : (There are 18 songs and poems in the film.)
"Aathadu Vishnumurthy Paramatmudu" (Padyam)
"Andhaalu Chindeti Ee Vanaseemalo"
"Bana Nandhana Ushabala (Padyam)"
"Bhakthi Paasambu"
"Brathikee Phalambemi Ekakinai Itupai"
"Devaa Hara Hara… Jaya Mahadeva Shambo"
"Karuna Rasabharitha"
"Madhukaita" (Padyam)
"Mana Prema Gaatha"
"Naakun Muddu"
"Ninne Valachithinoi"
"Nyayamidena Chanduruda"
"O Javaraala (Adhigo Mana Prema)"
"Ottesuko Ottesuko"
"Saraseejadhalanayana"
"Subhodayamuna"
"Suralu Munivarulaina"
"Vande Sambhum and Dandakum"