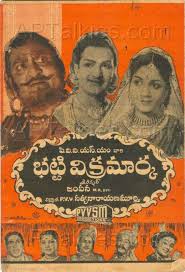 Bhatti Vikramarka (Telugu: భట్టి విక్రమార్క) is a 1960 Telugu film directed by Jampana Chandrasekhara Rao and produced by Polisetty Veera Venkata Satyanarayana Murthy. It is a commercial hit film ran for 100-days.
Cast:
Nandamuri Taraka Rama Rao as Vikramarka Maharaju, King of Ujjain
Kanta Rao as Bhatti, Minister of Ujjain
Anjali Devi as Prabhavathi Devi, daughter of King Chandrasena
S. V. Ranga Rao as Mantrikudu
Relangi Venkataramaiah as Tirakasu, Shilpacharya
Balakrishna as Assistant to Mantrikudu
Nagabhushanam as Prachandudu
Mukkamala
T. D. Kuchalakumari
Girija as Arakasu, wife of Tirakasu
Crew:

Director: Jampana Chandrasekhara Rao
Producer: P. V. V. Satyanarayana Murthy
Writter: Anisetty
Music: Pendyala Nageshwara Rao
Singer's: Ghantasala and P.Susheela
Cinematography: Adi M. Irani
Editor: N. M. Shankar
Release date: 28 September 1960
Songs:
01 – Chathurbhuje (Slokam)
02 – Jaire Jambaire
03 – Kanne Pilla Sogasu
04 – Kommulu Thirigina
05 – Manasara Preminchi
06 – Natinchana
07 – Ninu Nammi(Padyam)
08 – O Nelaraja
09 – O Sundari Andame
10 – Satyamaya Guruda
11 – Shaila Sutha Mathak
12 – Shuklam Bharadharam (Slokam)
13 – Vintha Aina Vidhi
About Director:
Jampana Chandrasekhar Rao was a famous Writer before Independence and his first book was published as Bavvae na magadu in 1941 and wrote some more books till 1949 and than He started his filmography as Director & Producer in between 1950's to 1960's
About The Story: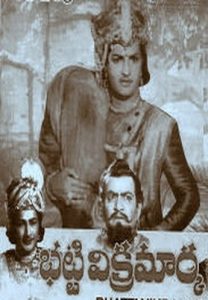 The story is based on the historical characters of Bhatti and Vikramarka. It also shows some of the Bethala Kathalu (Stories of Vetala).
Indra invites Vikramarka to Heaven and requests him to decide who is the best dancer between Rambha and Urvasi. Vikramarka gives two garlands to them to wear and dance. The garland worn by Urvasi stays fresh, whereas that one worn by Rambha withers. He judges Urvasi as the best dancer, as she is fearless about her performance and win. As a token of gratitude, Indra gifts him a Simhasanam with 32 Salabhanjikas.
Prachandudu performs 99 yagnas and in search of 100th yagna to achieve some magical powers. Mantrikudu tells him to invite Vikramarka for the sacrifice. He agrees and reaches the Smasanavatika, where he told him to get bhetala, who is hanging from a tree. He cuts the rope and gets bhetala on his back. While returning, he narrates a tricky social problem and asks Vikramarka to answer. After successfully answering all the stories, bhetala instructs him about the ill intention of Prachanda. Prachanda on his return asks Vikramarka to perform Sashtang Pranam. The cautious Vikramarka tells him as a king he does not know how to do it and requests him show how to do it. He kills Prachanda while he is on Pranam and gets the magical powers.