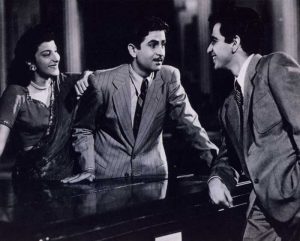 Apoorva Sahodarulu is a 1949 Indian Tamil action film directed by T. G. Ragavachari and written by Kothamangalam Subbu. The film which was adapted from Alexandra Duma's novel The Corsican Brothers starred M. K. Radha, playing dual roles and P. Bhanumathi in lead roles with Nagendra Rao and Suryaprabha playing supporting roles. The film revolves around the two lookalike brothers who were separated during childhood by their cruel uncle who murdered his parents, rest of the film shows how two brothers join together in avenging the death of their parents.
It was simultaneously produced in Tamil, Telugu and Hindi languages by Gemini Studios. The film was made in Telugu as Apoorva Sahodarulu, directed by C. Pullaiah and Hindi as Nishaan, directed by S. S. Vasan.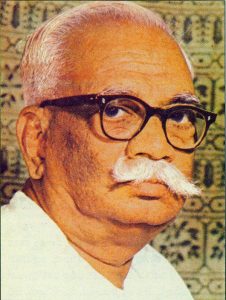 Crew:
Cast: R. Nagendra Rao, Bhanumathi
Director: C.Pullaiah
Music Director: S Rajeswara Rao
Producer: S.S. Vasan
Cast:
Actor Role: M. K. Radha, Vijayan & Vikraman,P. Bhanumathi,Kanchana.
Stunt: Somu,Marudhu,R. Nagendra Rao Marthandan,
L. Narayana Rao, G. Patttu Iyer,Lakshmiprabha,Suryaprabha
About Songs:
The music was composed by S. Rajeswara Rao, MD Parthasarathy and R Vaidyanathan and lyrics were written by Kothamangalam Subbu and Seetharaman. The song "Laddu Laddu" sung by Bhanumathi was well received A duet meant for the Hindi version was composed on the piano by Rajeswara Rao, and Vasan liked it so much he wanted it for the Tamil version too. This song was added after the shoot was over.
aaha aaduv  – A.Mothi & P. Bhanumathi
laddu laddu  – Bhanumathi
maanum mayilum – Bhanumathi
About the movie: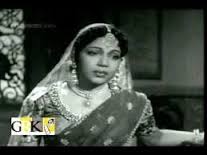 The film was released on 21 October 1949 with reel length of 4,465 metres (14,649 ft) and received "U" (Universal) certificate from Central Board of Film Certification with runtime of 143 minutes.The film was a major success both at the box-office and with the critics. Dhananjayan praised MK Radha's acting as "finest and best in his career" and appreciated director Acharya for "bringing out the best performance from everyone and presenting an entertaining and engaging film".Randor Guy of The Hindu wrote that the film "is remembered for the excellent performances of Bhanumathi and Nagendra Rao, and for the music".The film was remade in Telugu as Apoorva Sahodarulu with Radha reprising the character. It was also remade in Hindi as Nishaan with Ranjan. Bhanumathi was the lead actress for all the three versions.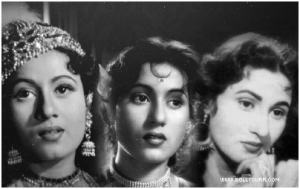 The film introduced the concept of identical twins and their feelings and eventually became a trendsetter for similar themes. M. G. Ramachandran played the twins in a rehash of the film titled Neerum Neruppum, which did not do as well. 1999 film Vaali starring Ajithkumar also had a similar concept.