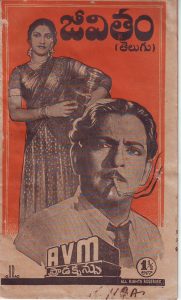 Jeevitham is a 1950 Black-and-white Telugu social guidance film produced and directed by A.V. Meiyappan with his company AVM Productions. The film starred Vyjayanthimala in Telugu cinema debut with S. Varalakshmi, T. R. Ramachandran and C. H. Narayana Rao forming an ensemble cast with many actors appearing in other significant role. ActressLalitha and Padmini made a guest appearance as stage dancers.
The film was a remake of 1949 Tamil film Vazhkai which was also produced and directed by A.V. Meiyappan with Vyjayanthimala in the lead. Following the success of Vazhkai and Jeevitham, it was remade in Hindi a year later by A. V. Meiyappan as Bahar, however the Hindi version was directed by M. V. Raman who was the writer in the Tamil and Telugu version. Vyjayanthimala is the only star to reprise her role in the all three version where she made her screen and regional debut through all the films.
Crew :
Directed by:  A.V. Meiyappan
Produced by:  A.V. Meiyappan
Music by:  R. Sudarsanam
Cast:
• S. Varalakshmi as Varalakshmi
• Vyjayanthimala as Rani
• T. R. Ramachandran as Pathi
• C. H. Narayana Rao as Murthi
• Chilakalapudi Seetha Rama Anjaneyulu as Shivashankara Lingam Prasad
• Kanchi Narasimha Rao as Basawayya
• K. Doraswamy as Venkata Subbiah
• A. Narayana Rao as Veeraswamy
• P. D. Sambantham as Seenu
• A. L. Narayana Rao as Bandivadu
• Venkumaba as Bangaramma
• Baby Vimala as child artiste
• Baby Narayanan as child artiste
• Baby Meena as child artiste
• Baby Annapoorna as child artiste
• Padmini as dancer
• Lalitha as dancer

About Songs: 
1 Priyamaina Rajaa…. Nee Kan Ninne Praminchinaa
2 Priyamaina Raani…. Nee Kan Ninne Praminchinaa
3 Bhoomi Dunnaloy Rayeta Bhoomi Dunnaloy
4 Nandha Gopala Neetho Ne Aadudhaanoy
5 Mana Manasu Manasu Ekamai
6 Melukondi Tellavare Tellaga
7 Tippu Tippu Tappu Naadi
8 Aandhra Yugakka Neevi Jayamuraa
9 Idena Maa Desam Ida Bharata Desam
11 Aandha Nouka Palliseemaa
Story:
Mohini is the daughter of Sivashankaralingeswara Prasad, who marries Durgamma following Mohini's mother's death. Durgamma's brother Murthy wants to marry Mohini. Meanwhile, Mohini falls in love with Ashok, who is none other than her neighbour Pati, but she is not aware of that. When Murthy asks Prasad for Mohini's hand in marriage, he is refused by Mohini. An angry Murthy goes to the village and spends some time with Lakshmi and leaves her.
When Lakshmi becomes pregnant, she comes to the city in search of Murthy. Before she can find Murthy, she gives birth to a boy in the hospital. She meets Murthy and requests him to accept her and the child. But Murthy refuses so she leaves the child in Pati's car, and goes to the sea to commit suicide. In the meantime, Murthy plans to cancel Mohini's marriage to Pati by using the child. Due to his claim that the child is Pati's and Lakshmi's, the marriage is cancelled. The rest of the story is about how Pati faces problems from Murthy, and how he reunites with Mohini.