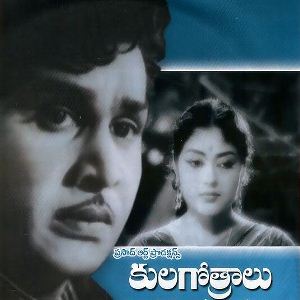 Kula Gotralu (కులగోత్రాలు) is a 1962 Telugu drama film directed by Kotayya Pratyagatma and produced by Anumolu Venkata Subba Rao under Prasad Art Pictures.
It is a musical hit with a score composed by Saluri Rajeswara Rao. The comic song "Ayyayo Chetilo Dabbulu Poyene" by Madhavapeddi Satyam on playing cards and its sequels was very popular. The film won the National Film Award for Best Feature Film in Telugu certificate of merit in 1963.
Cast:
Mikkilineni as Chalapati
Akkineni Nageshwara Rao as Ravi
Krishna Kumari as Saroja
Relangi Venkataramaiah as Sadanandam
Suryakantam
Gummadi Venkateswara Rao as Bhushaiah
Nirmalamma
G. Varalakshmi
Ramana Reddy as Ramanayya
Sandhya
Girija
B. Padmanabham as J.J. Rao
Ghattamaneni Krishna
Maddali Krishnamurthy
Crew:
Director: Kotayya Pratyagatma
Assistant director: Tatineni Rama Rao
Producer: Anumolu Venkata Subba Rao
Production Company: Prasad Art Productions
Original Music: Saluri Rajeswara Rao
Cinematography: A. Vincent
Playback singers: K. Jamuna Rani, P. B. Srinivas, Pithapuram Nageshwara Rao, Ghantasala Venkateswara Rao, Madhavapeddi Satyam, P. Susheela
About The Director: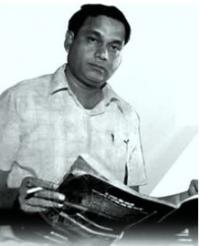 He was born on 31 October 1925 in Gudivada, Andhra Pradesh, India. Director K. Vasu is his son. He is also survived by his wife Satyavati, a daughter Tejo Latha in Bangalore and a son Kalidas in the United States. He died on 8 June 2001 in Hyderabad, India.
His debut film was Bharya Bhartalu in 1961. He has directed about 30 films in Telugu and Hindi and also produced a few films under Atma Arts. His film Raja Aur Runk went on to become a silver jubilee. He introduced Krishnam Raju to the film industry with his Nandi Award winning Telugu film Chilaka Gorinka in 1966.
About The Story: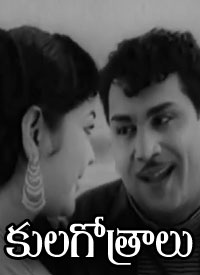 Ravi (Akkineni), son of Bhushaiah (Gummadi), is studying at Visakhapatnam. He loves his classmate Saroja (Krishna Kumari). Saroja's mother is cheated by Chalapati. He accidentally meets her while stealing a necklace from Saroja. Bhushaiah values sentimental about caste and clan and consequently does not accept Ravi's love for Saroja. Ravi leaves the house and marries Saroja in a temple. Ravi is posted as a police inspector in the same town. His nephew (Relangi) is arrested while gambling. Because of his father, he could not attend the marriage of his sister. His mother dies of mental illness, which brings about a change in Bhushaiah. Ravi has a son, who attracts Bhushaiah to visit him secretly and even gifts him a gold chain. Chalapati attempts to rob the house of Bhushaiah and get caught by Ravi. At the end Bhushaiah leaves his casteism and invites his son, daughter-in-law and grandson to his house.
Songs:
1. Ayyayyo Chethilo Dabbulo Poyane
2.Chelikadu Ninne Rammani Piluvaa
3.Chilipi Kanula Thiyyani Chelikadaa
4.Maama Sathru Bhayankara(Padyalu)
5.Nee Nallani Jadalo Poolu
6.Raave Raave Balaa
7.Ravayya Maa Intiki
8.Sakhi Sakuntala Rekkalu Dharinchi