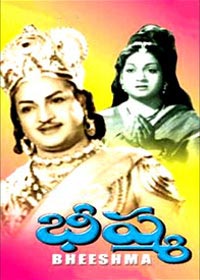 Bheeshma is a 1962 Telugu film based on the life of the great Mahabharata character Bheeshma. It is produced and directed by B. A. Subba Rao. The title role is played by N. T. Rama Rao.
Cast:
Nandamuri Taraka Rama Rao as Bheeshma
Anjali Devi as Amba
Haranath as Lord Krishna
Shoban Babu as Arjuna
Dhulipala as Duryodhana
Gummadi Venkateswara Rao as Karna
Nagabhushanam as Parasurama
Relangi as Narada
M. Prabhakar Reddy as Santana
Vanisree
G. Varalakshmi
Relangi Venkataramaiah
Kanta Rao as Salwa
Suryakantham
Vangara Venkata Subbaiah
Raja Babu
Crew:
Director: B. A. Subba Rao
Art Director: Vaali
Producer: B. A. Subba Rao
Production Company: B.A.S. Productions
Writer: Samudrala Jr.
Lyrics: Aarudhra
Music: Saluri Rajeshwara Rao
Playback Singers: Jikki Krishnaveni, P. Susheela, P. B. Srinivas and Ghantasala Venkateswara Rao
About The Director: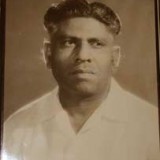 Bugata Venkata Subba Rao, better known as B. A. Subba Rao (died 1987), is a Telugu film producer and director. He is recipient of Raghupathi Venkaiah Award for his lifetime contribution of Telugu cinema and one Filmfare Award.
He started his career in 1950 with Palletoori Pilla as story, screenplay writer, director and producer. He is the person who gave N. T. Rama Rao, the versatile actor politician, the first chance as a hero in this film.It was a minor commercial hit and both Subba Rao and Rama Rao gained a good reputation from it.
He has produced some films like Raju Peda, Chenchu Lakshmi, Illarikam, and Bhishma under the banner of B.A.S.Productions.
About The Story:

The life of Bheeshma Pitamaha is the story for this film. It includes his birth to Santanu, how he became Bheeshma from Devavrata, bringing Amba and Ambalika in Swayamvar for the marriage of his brother Vichitravirya, and his role of Kaurava kingdom and Mahabharata war and his demise. It means the entire Mahabharata in short format.
Songs:
1.Brahmadevasutha Bhagyavidhaata
2.Chesina Karmaye Jeeviki Chukkani
3.Deva Deva Jeevatmaka
4.Durasache Duryodhanadulu
5.Hailo Hailessa Hamsakada Naa Padava
6.Jo Jo Jola Garala Bala
7.Kuppinchi Yegasina Kundalamula Kanti
8.Mahadeva Sambho Mahesha Girisha-1
9.Mahadeva Sambho Mahesha Girisha-2
10.Manasuloni Korika Telusu Neeku Premika
11.Namo Tyaga Charitha Bhishma
12.Nannu Nevvaniga Penchinavu
13.Nee Radhanu Nene Yedabayaga Lene
14.Pandavulunu Kunthi Pandiyundaga
15.Poru Nashtambu Mana Bandhuvulakunella
16.Samaramatanchu Meeritula
17.Teliyagalere Nee Leelalu