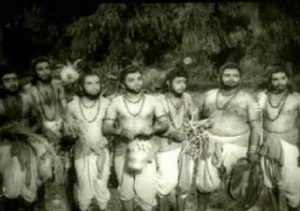 Paramanandayya Sishyula Katha full movie is a 1966 Telugu Comedy film directed by C. Pullayya. The story was written by Vempati Sadasivabrahmam. The film was remade in Kannada as Guru Shishyaru.
Cast:
Chittor V. Nagaiah as Paramanandaiah
Nandamuri Taraka Rama Rao as Nandivardhana Maharaju
K. R. Vijaya as Chitralekha
Sobhan Babu as Lord Shiva
B. Padmanabham as Nandi (Sishya)
Allu Ramalingaiah as (Sishya)
Raja Babu as Phani (Sishya)
Sarathi as (Sishya)
Boddapaati as (Sishya)
Mukkamala Krishna Murthy as Minister
Chaya Devi Anandam as Wife of Paramanandaiah
L. Vijayalakshmi as Ranjani
Vangara Venkata Subbaiah as Parabrahma Sastry
Kaikala Satyanarayana as Jaggarayudu, the thief
R. Nageswara Rao
Dr. Sivaramakrishnaiah  as Virupakshayya
Crew:
Director: Chittajallu Pullayya
Story, Dialogues and Lyrics: Vempati Sadasivabrahmam
Producer: Thota Subba Rao
Production Company: Sridevi Productions
Original Music: Ghantasala Venkateswara Rao
Cinematography: C. Nageshwara Rao
Playback Singers: S. Janaki, J. V. Raghavulu, K. Appa Rao, Pithapuram Nageswara Rao, P. Leela, Ghantasala Venkateswara Rao, P. Susheela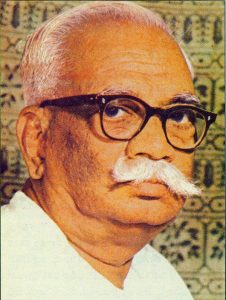 About Director:
Chittajallu Pullaiah, the director of Paramanandayya Sishyula Katha also known as C. Pullaiah is an Indian film director, known for his works predominantly in Telugu cinema. He is regarded as the father of Telugu theatre movement. In 1933, He made his film directorial debut with East India Film Company's first Indian film Sati Savithri which has received honorary diploma at Venice Film Festival. He then directed Sati Anasuya, the first children's film and Lava Kusha (1934)
He continued to direct Pakkinti Ammayi, Vara Vikrayam, and Malathi Madhavam under the East India Film Company. He directed Bala Nagamma, Apoorva Sahodarargal and Vindhya Rani under Gemini Pictures after shifting base to Madras. He is well remembered for Lava Kusha (1963), the story of Lava and Kusha in Hindu epic Ramayana, which won the National Film Award for Best Feature Film in Telugu.
About Songs:
Idigo Vachchiti Ratiraja Madhuve Techchiti Maharaja
Enaleni Anandameereyi Manakinka Rabodu Ee hayi
Kamini Madana Rara Ee Tharuna Kori Pilichera
Naaloni Ragameeve Nadayadu Teegaveeve
O Mahadeva Nee Padaseva Bhavacharananiki Naava
Parama Gurudu Cheppinavadu Peddamanishi Kaadura
Om Namasivaya Namo Namasivaya
Vanita Tanantata Tane Valachina Inta Niraadharana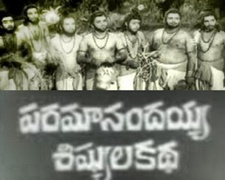 Story:
The plot of Paramanandayya Sishyula Katha is based on the story of Disciples (Sishya) of Paramanandayya, seven saints in number. They are actually the disciples of Aruna Keerti Mahamuni. Chitralekha (K.R. Vijaya) dances in the court of Lord Siva (Sobhan Babu). He gives her a Rudraksha mala to wear during the visits. Later, she visits the beautiful Earth with her companions and enjoys bathing in a pool. She finds these Sishiyas keenly looking at her and curses them to become idiots. After knowing the facts from Guruji and realizing her mistake, she pronounces the vimukti (free from curse) at the time of her marriage. The Guru, Aruna Keerti, in return curses Chitralekha that she will lose her celestial status if she comes into contact with a human.
He advises the Sishyas to go to Rajaguru(Principle Court Spiritual Adviser) Paramanandayya (Nagaiah) at Vijayadurgam ruled by Nandivardhana Maharaju (N.T. Ramarao). Paramanandayya accepts them as his disciples. Chitralekha forgets the Rudraksha mala while returning to the Heaven. The mala is accidentally found by Maharajah when he come to hunt in the forest. Chitralekha remembers her mala, and goes a snake to the Rajamahal (palace) as a snake and tries to steals the mala. However Maharajah dreaming about the devakanya (a celestial maiden) touches Chitralekha, who loses her divine powers and past memory. Maharajah calls Paramanandayya for advice. He tell the Rajah to handover the mala to her, making her regain the sequence of events. He advises her to pray Lord Siva to attain divinity (so she can go back to Heaven). Meanwhile, whatever the Sishiyas do out of ignorance turns out to be a good thing for Paramanandayya family. They save them from thieves etc. Finally they decided to die as Guruji strongly scolded them for purchasing a dead cow. They eat Vishapu Undalu and go to the streets. Night patrolling Rajabhat takes to the Royal Court. They thought Maharaja as Indra and Ranjani (Vijayalakshmi) as Apsara. They reach the house of Ranjani and makes Maharajah know the criminal plans of Minister. The Sishiyas spoiled the marriage of daughter Girija with Tuberculous patient and save Paramanandayya from another family crisis. Ousted by Guruji, they reach RajaMahal and spoil an attempt to kill Maharaja by Jaggarayudu (Satyanarayana) and Minister (Mukkamala). They convinced Chitralekha to marry Maharajah. During the marriage ceremony they are released from the curse and regain their sainthood.