Akka Chellelu ( అక్కా చెల్లెలు) is a 1970 Telugu drama film produced by V. Krishna Prasad of Jagapathi Films and directed by A. Sanjeevi.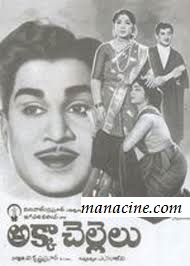 Akka Chellelu is one unique film which proved that Sowcar Janaki is ultimate for roles involving sacrifice and sentiment. It is based on a tamil film named Akka-Thangi written by Shando Chinnappa Devar. The prestigious production house Jagapati Pictures remade it in Telugu starring ANR, and Krishna. But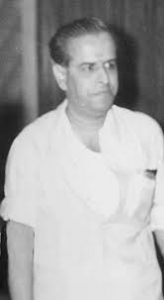 the real star of the film is Janaki. Her fantastic portrayal of an uneducated yet confident woman who makes her sister study by sacrificing her own marriage. She does a great job in the conflicting situations between justice and family values.The story is about the Family relationship between two sisters, Akka (Sowcar Janaki) and Chellelu (Vijaya Nirmala) , with mystery as background. There are some melodious songs particularly Pandavulu Pandavulu Tummeda rendered by K. V. Mahadevan.
Cast :
Akkineni Nageswara Rao – Judge Ramachandra Rao
Sowcar Janaki – Janaki
Ghattamaneni Krishna – Brother of Judge Ramachandra Rao
Vijaya Nirmala – Lawyer Vijaya
Santha Kumari –  Mother of Judge Ramachandra Rao
Gummadi Venkateswara Rao – Dharmayya
B. Padmanabham – Son of Dharmayya
Allu Ramalingaiah – Studio Manager
Ramaprabha – Daughter of Studio manager
Vijayalalitha – Asha, dancer
M. Prabhakar Reddy –  Senior lawyer
Chittor V. Nagaiah – Second judge Suryakantham
Rajababu
Crew :
Director: Akkineni Sanjeevi
Producer: V.Krishna Prasad
Music: K.V.Mahadevan
Lyrics: Kosaraju, Athreya, Arudra
Dialogues: Athreya
Banner: Jagapathi Films
About the Movie :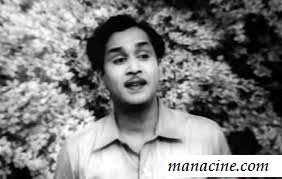 Ramachandra Rao ANR is a middle aged unmarried man who is a judge by profession. His mother Shantakumari, well wisher Dharmaiah Gummadi feel that he should get married. Ramachandra Rao's brother Krishna Krishna is a law student and he loves his classmate Vijaya Vijayanirmala. Vijaya has an elder sister Janaki Sowcar Janaki and their parents are no more. Janaki is a responsible woman who keeps the house in loan in order to make her sister study. Ramachandra Rao happens to see Janaki once in a temple and understands her sacrificing nature and goodwill. He expresses his wish to marry such good person to his well wisher Dharmaiah. Incidentally, Dharmaiah knows Janaki family well and rightfully Ramachandra Rao marries Janaki. Vijaya and Krishna also get delighted with the wedding. Meanwhile, a sudden twist happens to the story when Vijaya witnesses a murder crime and believes that the crime was done by her brother in law Ramachandra Rao. But Krishna doesn't believe it. An unnerved Vijaya argues in court saying he is guilty of the crime. Krishna, however argues supporting Ramachandra Rao. Janaki suffers a lot in between family values and justice system. As the evidences are against Ramachandra Rao's innocence, Krishna launches himself to detection. He
understands that a person who resembles Ramachandra Rao has actually done the crime. This person is a head of a crime group. Krishna fights over this group and brings the real culprit in front of the court. Another flashback sequence reveals that Ramachandra Rao and this murderer are indeed twins who get separated. Ramachandra Rao's father is also a judge and one criminal holds grudge on him and separate the twins in infancy. As a result, the kidnapped child grows to become murderer ANR. Vijaya mistakes murderer with the same facial features as her brother in law. The court finally believes the argument and things end on a happy note as the family reunites.
Performances:
ANR is highly impressive as the earthly middle aged judge. His looks and delicate expressions are a treat for the viewers. Sowcar Janaki impresses with her wonderful portrayal as an uneducated yet sensible woman. Her performance in Pandavulu Pandavulu Thummeda song can never be forgotten by Telugu Film Lovers.  Krishna delivers a neat performance as the considerate brother and a person who yearns to keep justice alive. He shares a good chemistry with his co-star Vijayanirmala. Vijayanirmala does a good job as a person who believes in what she looks and a competent lawyer. Gummadi is decent as the well wisher.
Released Date: 1st July 1970 by Saradi Studios