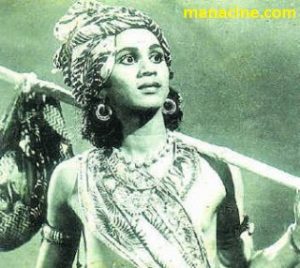 Swapna Sundari (స్వప్న సుందరి): is a 1950 Telugu film produced and directed by Ghantasala Balaramaiah. It was dubbed into Tamil with the same name.
Cast: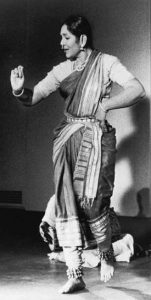 Akkineni Nageshwara Rao: Prabhu
Anjali Devi: Swapna Sundari
G.Varalakshmi
Kasturi Siva Rao
Mukkamala
G. Varalakshmi
Surabhi Balasaraswati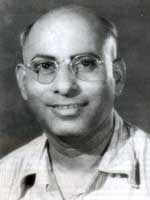 Crew:
Directed by: Ghantasala Balaramaiah
Produced by: Ghantasala Balaramaiah
Written by: Samudrala Raghavacharya
Music by: C. R. Subburaman
Cinematography: P. Sridhar
Production company:Vauhini Studios
About Songs: 
Aagani Vegame Jeevitam: Ghantasala
Ee Seema Velasina Haayi: R. Bala Saraswathi Devi and Ghantasala
Natanalu Thelusune: R. Bala Saraswathi Devi
Nee Sari Neevele: G. Varalakshmi
Nijamaaye Kala Nijamaaye: Ghantasala
O Paradesi Mare Jaadala: Ghantasala, G. Varalakshmi
O Swapna Sundari..: Ninu Kaanaga Naitinigaa: Ghantasala
Story: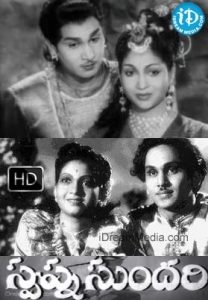 Prabhu (ANR) dreamt of a lovely lady, his 'Dream Girl' or 'Swapna Sundari'. He encounters a tribal queen (G. Varalakshmi) while on tour, who falls in love with him, but he rejects her. He finally meets his 'Swapna Sundari' (Anjali Devi) who is actually a Deva Kanya. The love is mutual. She leaves her Godly abode to stay with Prabhu. But an evil Mantrik (Mukkamala) finds out that with her help, he can conquer the world and become invincible so he kidnaps her. Prabhu, with the help of the tribal queen vanquishes the evil Mantrik, but the Rani dies. Swapna Sundari and Prabhu live happily ever after.