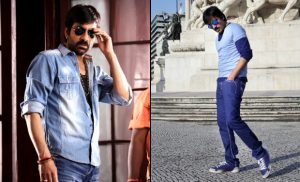 While young and star heroes are doing films one after the other, Mass Maharaja is not in a hurry to start his next project. Ravi Teja Refusing Movies. Apparently, Ravi Teja is over cautious about his new venture. After scoring a decent hit with his last movie Bengal Tiger, he has been waiting for months to sign his next project.
Ravi Teja had rejected a film with Venu Sree Ram which was to be produced by Dil Raju and then he declined to star in Kanithan Telugu remake owing to reasons best known to him. If some reports are to be believed, Ravi Teja has refused another movie which was to be directed by debutante Chakri. With this, Ravi Teja rejected three films this year.
In fact, Ravi Teja gave ample of time for Chakri to prepare a winning subject. Although the actor was pleased with first half, he had asked the director to change second half. Chakri along with few other writers worked on second half of the movie. However, he failed to impress Ravi Teja consistently. So, the actor is now looking for other director to helm his next movie.
It is also heard that, Ravi Teja refused to work under few top production houses, because of remuneration issues. While Ravi Teja is speculated to be asking Rs 10 cr pay for single movie, the producers are not daring to invest such big amount on the 'Balupu' star.
If Ravi Teja wastes his time by fighting with producers for hiked payment and asking directors for engaging scripts, even his fans may forget about him!