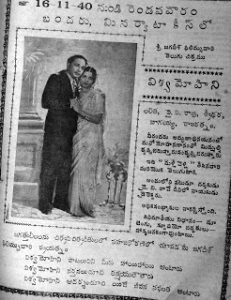 Viswa Mohini (Telugu:విశ్వమోహిని) is a 1940 Telugu romance film directed by Y. V. Rao. The film written by Balijepalli Lakshmikanta Kavi is touted to be the first film about the Indian motion picture world.
Crew :
Directed – Y. V. Rao
Written – Balijepalli Lakshmikanta Kavi,Y. V. Rao
Music – Ogirala Ramachandra Rao
Release dates – 1940
Running time – 195 minutes
Country – India
Language – Telugu
Cast :
Chittor V. Nagaiah
Y. V. Rao
Bezawada Rajarathnam
Pushpavalli
T. Suryanarayana
Doraiswamy
Coconada Rajarathnam
P. Ganga Rathnam
Rangaswamy
Lalitha Devi
Sampurna
About the film :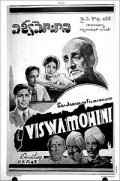 Purushottam (Y.V. Rao) embezzles money from a firm of brokers owned by Padmanabham in order to get his son Mohan Rao married to Hemalatha, daughter of the millionaire Visalakshamma (B Rajaratnam). The now impoverished Padmanabham partially gets his own revenge when his daughter Sushila (Lalitha Devi) becomes a film star Viswa Mohini.
The film producer Pashupati, brother of Visalakshamma, introduces her. The star Viswa Mohini falls in love with Mohan Rao and her father agrees to their marriage provided Mohan can find a job. He pretends to have done so and the two get married. Hemalatha offers money to Viswa Mohini to go away and free Mohan, which, in an emotional scene, she refuses to do.
About the songs :
Melavimpagade Cheliya Veena
Bhale Face Beautiful Nee Pose
Yee Poo Podarinta