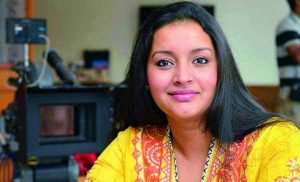 Released in 2001, Powerstar Pawan Kalyan and Tamil director SJ Surya's romantic entertainer Khushi ended up as a huge blockbuster and catapulted Pawan's image among the young audiences to an all-time high. The actor-director again teamed up for Komaram Puli, which was a colossal disaster.
Now, since the last few of months, there have been several reports that Pawan and SJ Surya may team up yet again. Recently, a photograph of Pawan's ex-wife Renu Desai and SJ Surya at a newyear luncheon created a flutter among Pawan fans.
When probed further, we came to know that Surya and Renu actually met to discuss about a possible sequel to Khushi. Renu Desai will be producing the film in association with a leading Bollywood production house. Pawan has always been in good terms with Renu post theirseparation and he too is quite positive about teaming up with her and SJ Surya for old times' sake.